20 Feb

Pack Gym & Fitness Equipment Without Hurting Your Back

For most people, the moving process in itself is stressful enough. But when you have to move your gym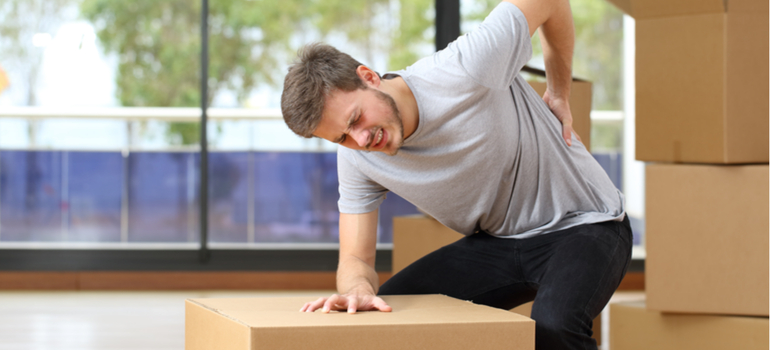 and fitness equipment too, your move can be much more difficult and strenuous.
Moving gym and fitness equipment is tricky and cumbersome mainly because of their massive weight and awkward shapes. Heavy gym equipment can also strain your back muscles and triggering back pain or injury.
Here are some tips on how to pack your gym and fitness equipment without getting hurt:
1.Pack smaller fitness items first
Begin with simple fitness equipment to such as; yoga mats, hand weights, and dumbbells, to get them out of the way to. Be sure that the boxes you use are strong enough to handle the weight.
Pack the fitness equipment into smaller card boxes. Though smaller boxes will fill up faster than larger boxes, they will be easier to handle, lighter and better for your back.
2.Disassemble as much as you can
If you have heavy equipment such as a treadmill, stationary bike, shoulder press, elliptical machine, and a squat rack, it is better to disassemble them and put them together in your new home.
Search for your owner's manual and read it thoroughly before attempting to disassemble any exercise equipment. Remove any equipment pieces, screws, bolts, and other smaller parts first. If the equipment pieces are too heavy, look for a partner to help you move them.
Unplug the machines and remove any weights on them. Secure any wires with tape, label them and store them separately. Don't forget to take pictures of the equipment so that you know how to reassemble them easily in your new house.
3.Use the right tools
When it comes to moving heavy gym equipment, moving equipment such as a furniture dolly is pretty much a necessity. They make it easier to move the larger machines that would literally break your spine if you tried to move them by yourself.
4.Find a partner
Manually lifting heavy items is the main source of most back injuries. It is critical to find a partner to help you distribute weight. Assess any equipment (or parts) before attempting to lift it. To do this, push it lightly with your feet or hands to see how easily it moves. If it seems you can't lift it comfortably by yourself, do not attempt to lift it.
5. Get professional help
Gym and fitness equipment are extremely heavy to lift and complicated to disassemble. One of the best decisions you can make for the safety of your back and equipment is to seek professional help. Professional movers will take care of everything, leaving you out the whole process and at the same time save your back.
Professional movers have the very best tools for moving gym equipment such as hand truck dollies, machine skates, toe jacks. In addition, moving professionals have the necessary professional training to efficiently disassemble and assemble your equipment.
6.Learn how to use the right muscles
Learning proper lifting is essential in preventing back injury. Keep your feet apart and squat down to have a wide base of support before lifting the item. This ensures you rely on your leg and thigh muscles to lift the item, which minimizes the strain on your back muscles.
At Neighbors Relocation Services Seattle we treat your possessions with the same care as if they were our own, we offer unparalleled reliability and razor sharp punctuality for both domestic and commercial relocation & removal services. Get your free quote now by calling us at 1-800-950-1930.
Hold the equipment as close to your chest as possible and slowly lift by straightening your knees. Don't attempt to lift items while bending forward. Another general safety rule is to always push something heavy instead of lifting it.
Once you reach your destination, slowly set down your item carefully by squatting with your knees. Also, avoid twisting your body as much as possible.
Conclusion
Gym and fitness equipment can complicate your entire moving process. They are heavy, awkwardly shaped and hard to take apart. To pack your gym equipment without wrecking your back, lift smaller items, learn how to lift the right way and seek professional help.