24 Aug

How To Make A Relocation Easier On Your Pets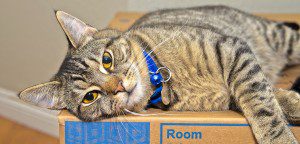 There is a lot to consider when moving to a new home. You need to make sure that everything is packed, that everything gets to the new home securely, and that all your utilities, mailings and other important details have been dealt with. With so much going on, it can be easy to forget about the needs of our pets.
By following this simple guide, you can take a lot of the stress out of their experience.
Preparing to leave
The most important thing to remember is to act like moving day is just another day. They need to go through their usual daily routine as much they can on the moving date. This means holding off on packing essential items they will be looking for that morning and walking them (dogs) right before the move, this will give them time to get tired and to of course, do their bathroom routine. The longer the walk/run the better if you're going on a long car ride, this will tire them, thus they'll be more relaxed during the ride.
Moving your pet to the new home
Once everything is packed up and they have been taken out of the house, they may start to notice that something isn't right, be playful with them. If the whole family is following the movers in one car, make sure that your pet is given enough attention and space and has all the right comforts at hand. If you're moving with a dog, it might be a good idea to make frequent stops, this will help them release some energy and anxiety.
Settling into the new home
The stress and uncertainty of a move doesn't stop when the final box has been unpacked. Your pet may have their bed, bowl and toys in a comfortable new corner of the new home, but it won't feel right. Some pets can take a little time to get used to their surroundings. This may manifest itself in territorial behavior like urination, digging around and scratching objects. So be prepared, especially if your purchased new furniture since they might want to mark their new turff!
Do not forget  to update the contact information of your pet's microchip and/or collar, this is critical since they will be in a new neighborhood, they will run into a higher risk of getting lost.