18 Jul

How to Compare Different Cities

It's time. You're moving! However, before you make the big leap; have you considered whether the city you chose is right for you?

All cities in the U.S. have individual pros and cons, so to speak, and it's not a bad idea to compare them beforehand. Moving to a new place can be costly, time consuming and draining; hence why it's best to make sure that it's the right place for you!

When deciding which city you will call home you must keep in mind crime rates, neighborhoods, cost of living and schools. Whether they seem important to you now or not, they might be important when, and if, the time comes to sell.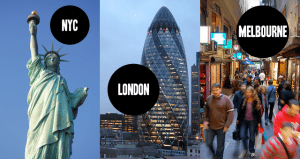 Comparing Neighborhoods
If you looked at a satellite-enhanced map online and saw rows of rooftops, would you really know what kind of neighborhood it was? It is essential to scout out your potential neighborhood and do some in-depth research.
Consider the type of neighborhood you currently live in. Do you want to find one similar, or upgrade? If you have children, you might consider whether if there is a park nearby or similar family-oriented amenities. Use crime rates and public housing data to find a place in which you and your family will feel comfortable.
Cost of Living
Cost of living is commonly overlooked when moving to a new city. Depending on where you are going, you run the risk of price shock.
You might think your current daycare costs are reasonable, but in larger cities – get ready to be surprised! Comparing food costs, list prices for houses, and even utilities will better prepare you to live based on your new salary and within your means.
Crime Rates
Your job may require you to be in a highly-populated city. That doesn't mean you have to live inside its city limits. Statistics show that higher populations have a direct impact on crime rates. Why? Because crimes thrive on anonymity. Urban areas provide more opportunities for random assaults.
Though the crime stats are always informative, they are not always definitive.
Some cities have done very well in reducing crime rates, including Seattle and NYC, other's not so well, hence why it's important to weigh-in this data in your decision making.
Schools
If you have children, want children, or will never have children the school district has a huge influence on the potential house you choose. Not only in respect to school taxes but the school district can sometimes dictate the value of the house itself.
Recent studies have shown that houses near the best schools are being purchased at premium prices. If you find a neighborhood, it's always a good idea to look into the school district's test scores and the ratio of teachers vs. students to give you an orientation on your next big investment.
Again, even if you aren't planning on having children, consider the resell value of your home in a nice school district versus a not so privileged one.
The Bottom Line
The best thing to do before a big move, is to be prepared. The more research you do, the better. There are many sources of quantifiable data out there than can help you.
These are some additional factors/metrics that you'd might want to consider when comparing two cities:
Employment rates
Police officer per population ratio
Mobility and transportation
Retail and shopping amenities
Healthcare and hospitals
Sports and fitness amenities
Arts and cultural amenities
---
If you're looking for expert advice on the logistics of a relocation, give us a call at 1-800-940-1939. Located in Seattle, Neighbors Relocation Services can help you with a local, interstate, and international move. Give us a call today for a free consultation.