04 Oct

Packing Life Hacks That You Need to Know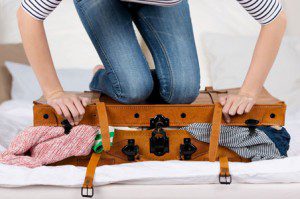 Relocating to a new town, or even a new state, can be a stressful process. If there was ever a situation where some tried-and-tested hacks were needed, this is it. Here we want to offer you 8 pieces of advice that can make a big difference on your big move. Let's start right at the very beginning.
1) Make the moving process as easy as possible by using suitcases with wheels and boxes with handles. If the boxes don't have handles, put holes in them to carry them more easily.
2) When you make your checklist of items, make a copy for the removers and helpers and keep it at hand at all times.
Some people put all of their efforts into the act of packing all their belonging up into boxes. This is a rookie mistake. It is just as important to make sure that everything is organized. The more organized you are before you start, the easier it is to find everything at the other end.
3) Pack up all your boxes, drawers and storage containers by room. Color code them with stickers and colored pen for a quick visual aid.
4) If you need to write on the boxes, either a red-colored sign for the bedroom or a note that the contents are fragile, do so on the side of the box. A note on the top is immediately covered if the boxes are stacked.
5) Sandwich bags are not just for a packed lunch during the move. These clear, resealable bags are ideal for grouping small items together, such as electronic cables for the bedroom or make up compacts.
When you know which box and bag each item is going into, you can then start to carefully pack everything in the right place. It is important to be a careful as possible to avoid breakages and spills, which is where these final tips really help.
6) You could have one suitcase for clothes and one box for breakable crockery. However, t-shirts and other garments make great packing materials for these fragile items. Stuff socks into mugs!
7) If you have a box or bag with toiletries or other bottles of liquid that may leak, make sure to wrap them up in plastic and secure the lids to prevent spills.
8) Make use of any soft materials to fill the gaps in boxes. This will keep items safe and save money on packing materials. Your child's stuffed toys can "help" to keep their other belongings safe on the ride over.
This is just the start of the many hacks that are out there. Talk to friends and neighbors, get tips from the pros and maybe even create your own to make sure that your relocation is as stress-free as possible.